Discover our features
We continuously innovate to offer you features that adapt to your needs. At Diduenjoy, we invest on efficiency, simplicity, and design.
Request a demo
Creation
Question Libraries
Use our question library, customized to your business sector and your issues, to find just the right phrasing. If you like, you can also add your own questions.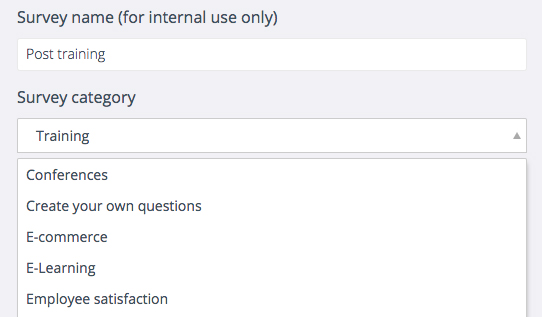 ... in Every Language
Our surveys are translated into over 30 different languages. An intelligent system identifies the language settings of your customer's device, and automatically displays the survey in that language.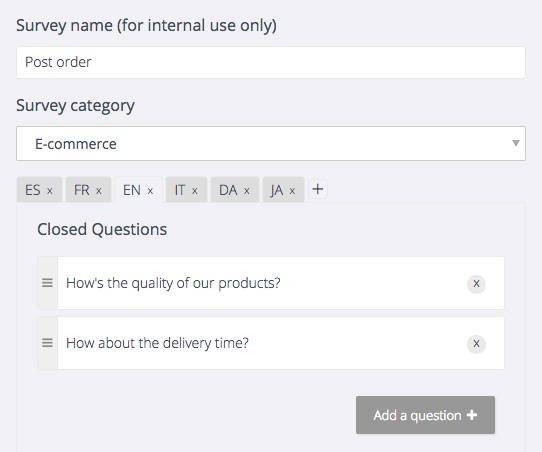 Customized Survey Design
You can fully customize your survey design by inserting your logo or a background image and by selecting your response scale (personalized smileys, numbers, stars, etc.), your colors and your font.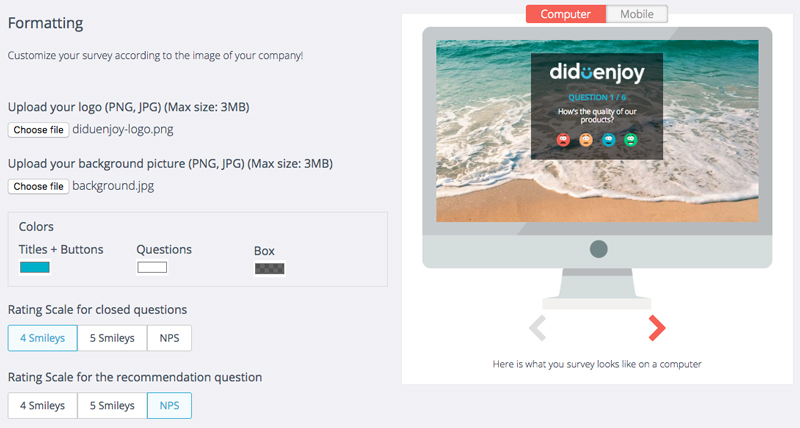 Email and SMS Templates
We provide email and SMS templates that you can customize with your company's colors. You can also integrate your own HTML email templates directly.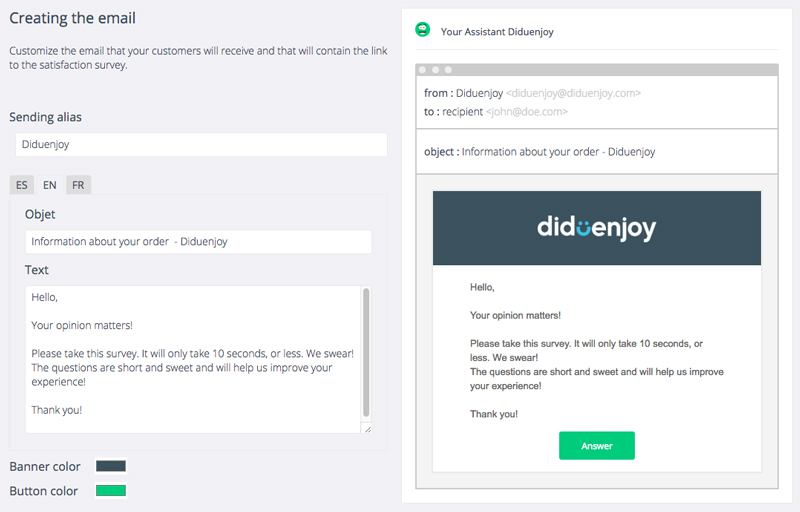 Sending domains
We can provide you with DKIM records, allowing you to send email surveys from your own domain names. The email sender's address will appear in the format @yourdomainname.com.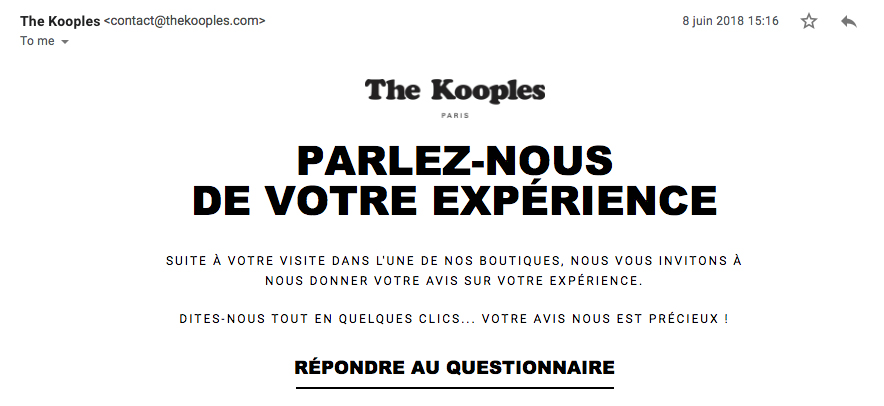 Collection
Multi-Channel Distribution
We provide you with twenty different data collection channels for gathering feedback, primarily via surveys sent out by email or SMS, shared on social networks, integrated into an application (in-app) or a website, or via feedback terminals, touch tablets, Wi-Fi portals, etc.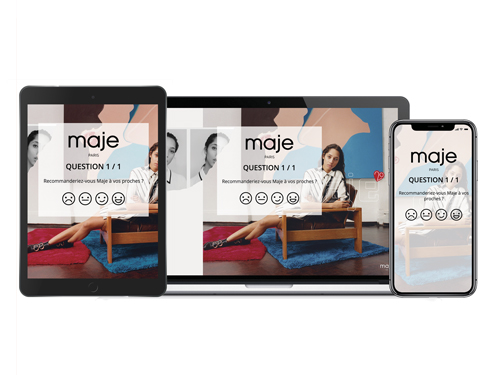 Aggregating Other Public Feedback Sources
DIDUENJOY also lets you centralize comments left on your Google MyBusiness, Facebook Reviews, Foursquare and Glassdoor pages, and others. You can access these results in real time, directly on your dashboard.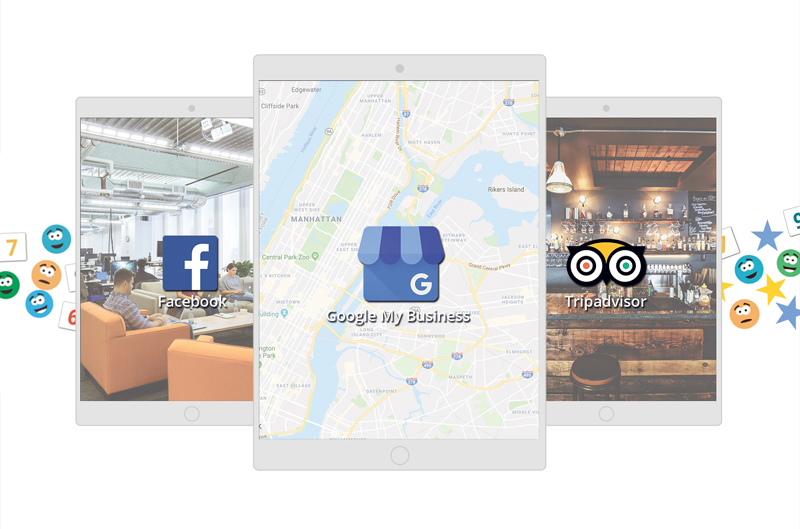 Automatic Reminders to Non-Respondents
"X days after the initial send, you can have a reminder sent automatically via email or SMS to improve your response rate. There is no limit to the number of reminders you can send."

Anti-Spamming
You can configure your email blasts so that a client/co-worker won't receive your satisfaction survey more than X times per month or per year, to avoid contacting them too often.

Analysis
Real-Time Dashboard
Access your results in real time on our dashboard, available on any device (smartphone, PC, tablet, connected TV, etc.). A system of advanced filters lets you experiment with the data (e.g. filter by retail outlet, manager, respondent type, etc.).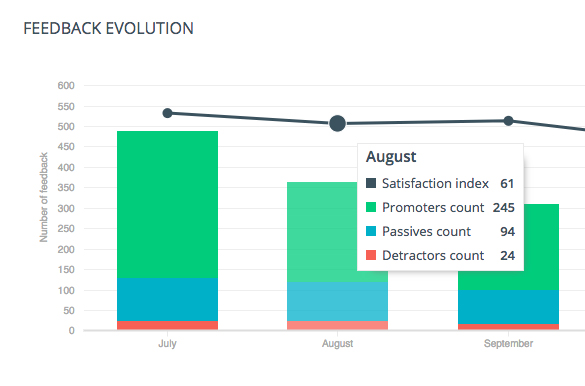 Multi-User Management
The dashboard is available to every member of your team, with views that can be customized for each level. For example, a store manager would only have access to the results for his retail outlet, a regional director would only see results for his area, etc.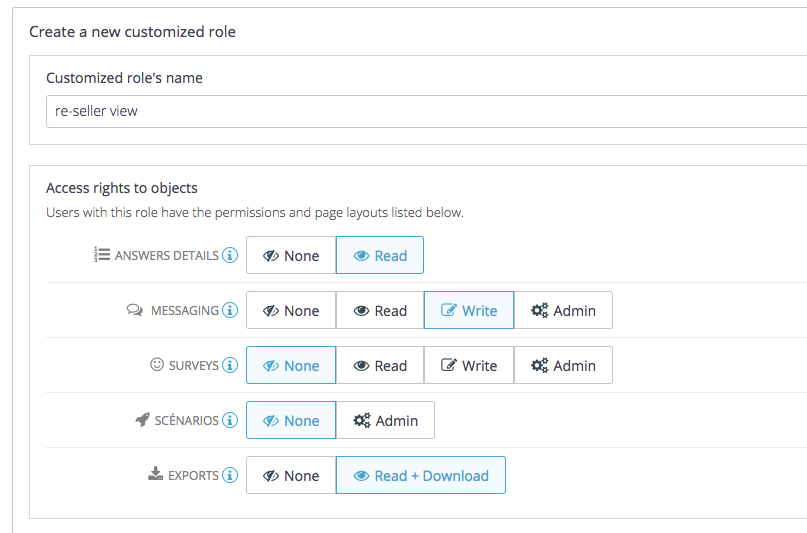 Anonymity Management
DIDUENJOY feedback, particularly for internal surveys, can be completely anonymous (no information whatsoever about the respondent) or partially anonymous (the respondent's identity is not shown, but the feedback may be connected with a specific team, geographical area, etc.).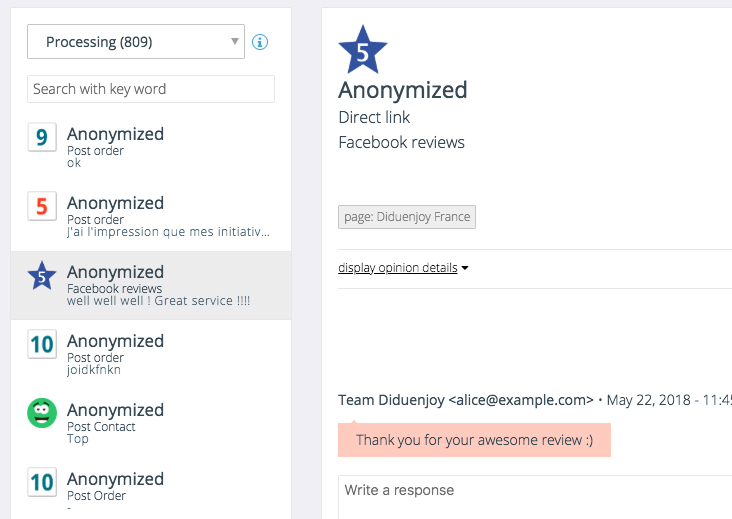 Personalized Reports
You also have real-time access to personalized reports that cross-reference your CRM/IS data with your survey responses. These reports can be sent to you by email as often as you choose.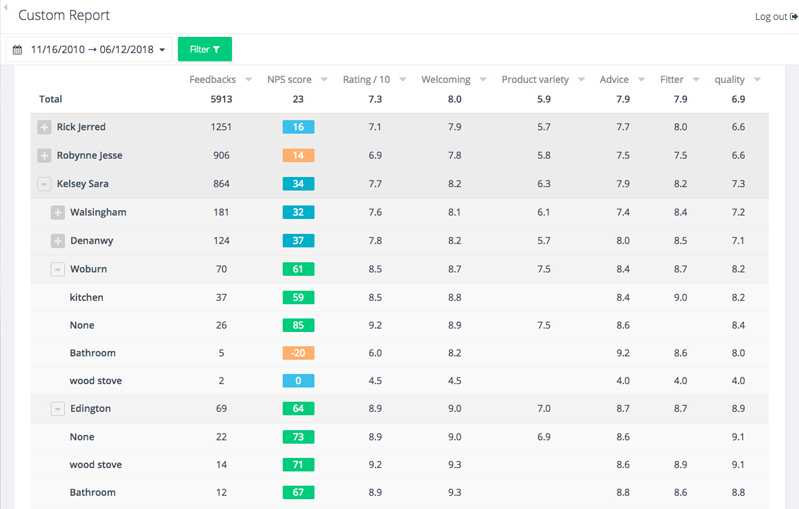 Text Mining
Our text mining technology allows you to instantly analyze the comments left by your customers/co-workers. You also have the ability to connect DIDUENJOY to other semantic analysis tools.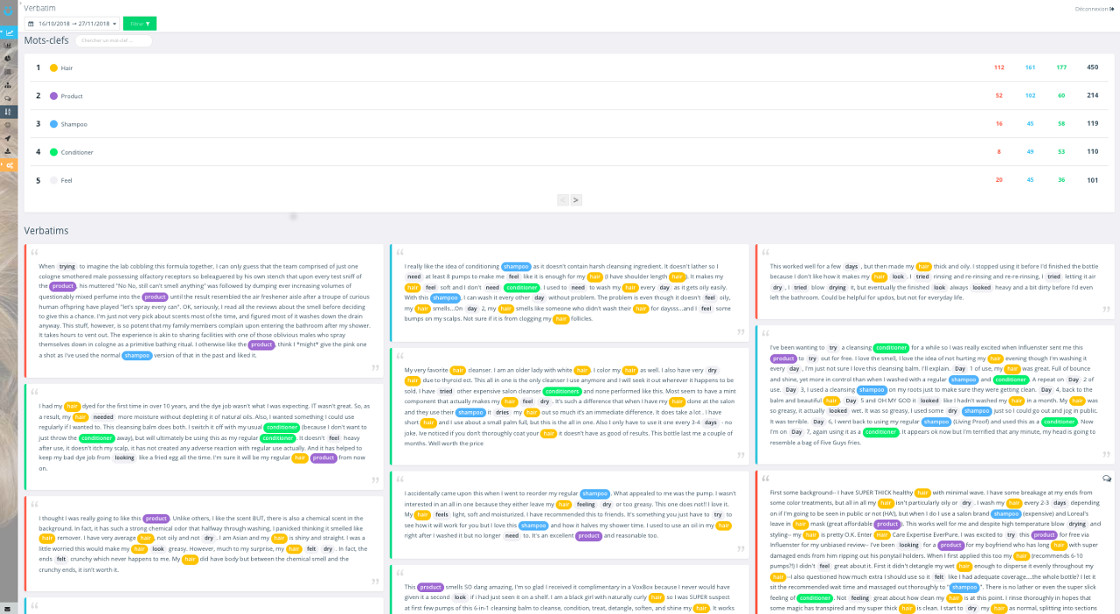 Weekly Digests
Every Monday, you'll receive a summary of the main results for the preceding week via email. Each platform user's summary is customized according to his/her level of access as defined by the administrator.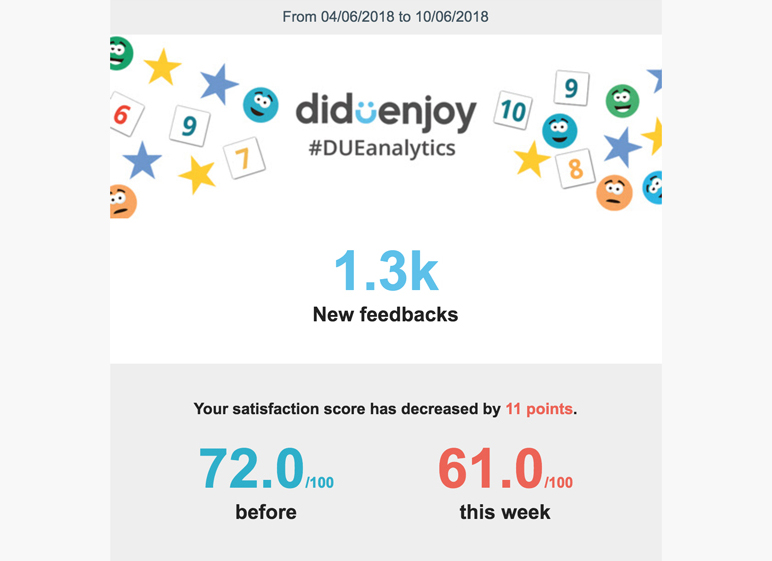 Google Rich Snippets
You have the option of posting DIDUENJOY feedback in the form of stars and suggestions in order to improve your pages' rankings on Google, generate more conversions, and increase shopping cart values on your website.

Posting Feedback
You can re-post DIDUENJOY feedback on your websites to improve your product and/or seller data sheets or to share comments about a given retail outlet.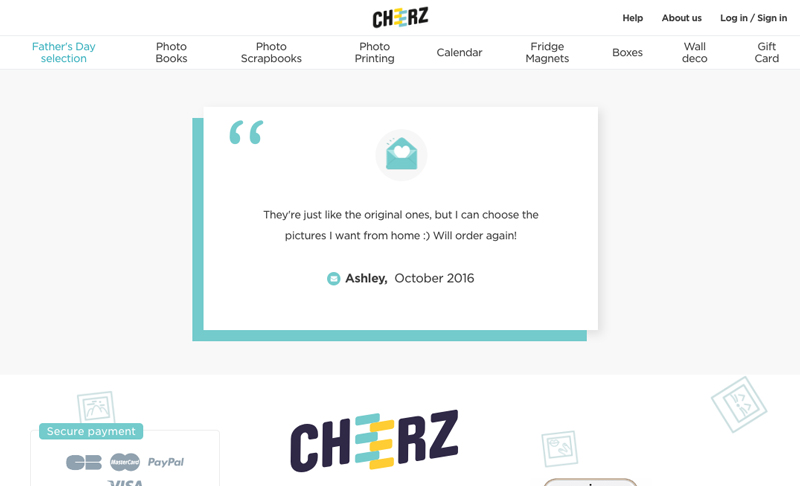 API
With our JSON REST API, you will be able to securely connect your own tools (CRMs, emailing platforms, Customer Service programs, etc.) to DIDUENJOY to send surveys and receive results automatically.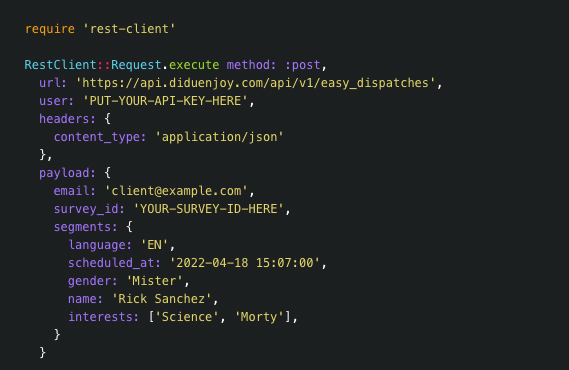 Integrations
We have developed thirty native integrations with CRMs, Customer Service programs, e-commerce CMSs, LMSs, payment platforms and POS software (Zendesk, Salesforce, Cegid, Hubspot, Aircall, Microsoft Dynamics, Slack, Stripe, Magento, Intercom, etc.).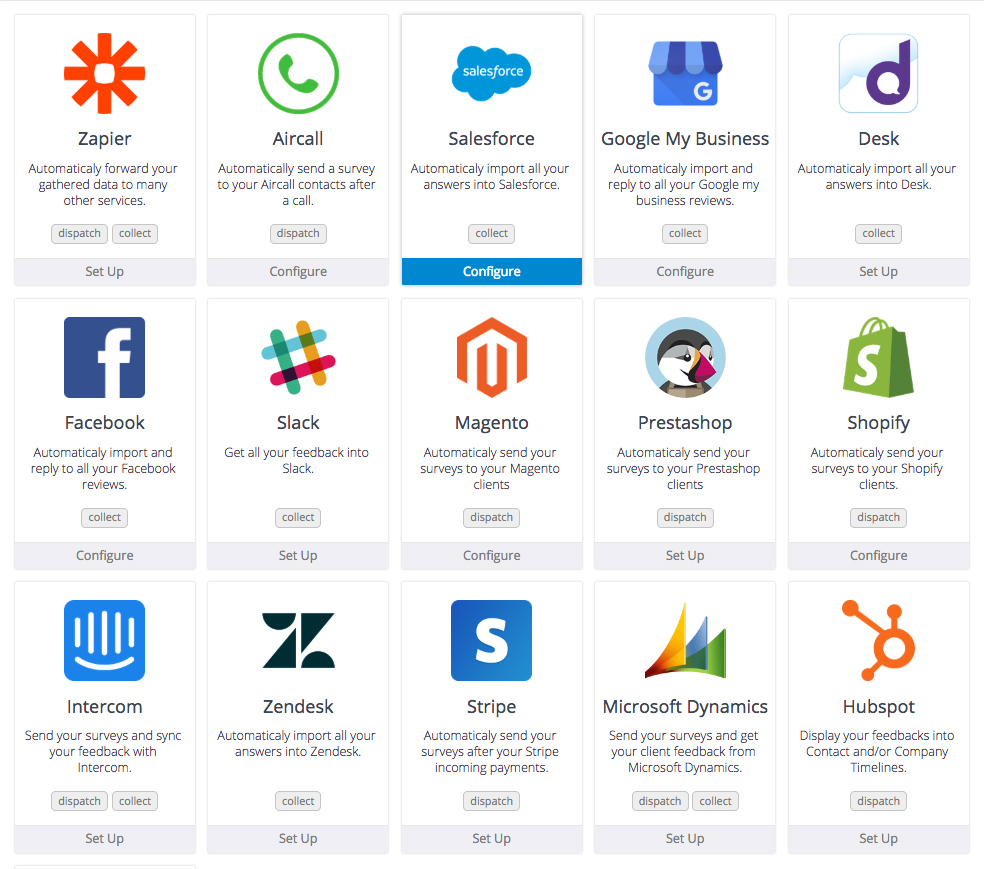 GDPR
We are in full compliance with the requirements of the new data protection regulation (GDPR) that entered into force on May 25th, 2018. For more information, please see our terms of use.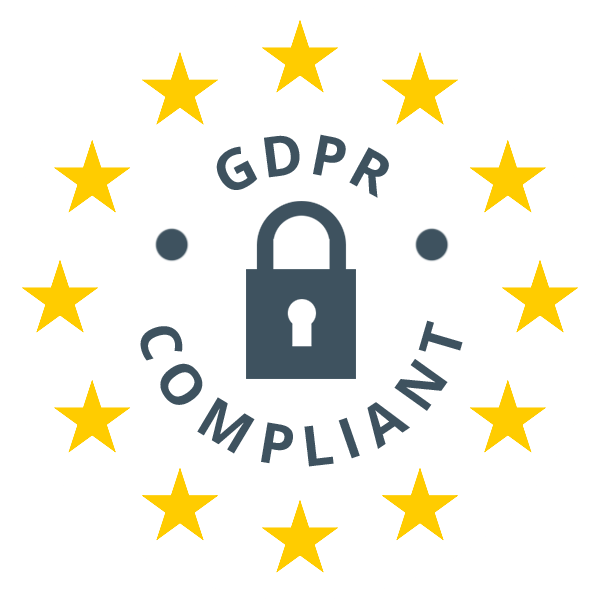 Data Hosting and Security
All data retained by DIDUENJOY's services is hosted in the European Union and remains the exclusive property of its owners. All connections to DIDUENJOY app sites are in HTTPS mode, and our domains utilize security certificates and TLS  encryption.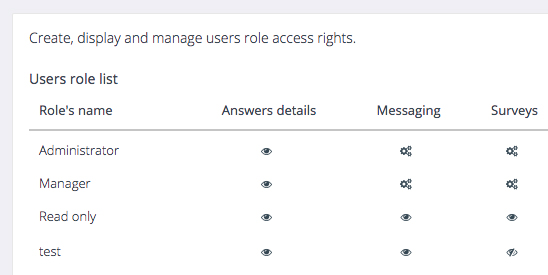 Engagement
Customizing the last page of your questionnaire
You can customize the content and redirect buttons on the last page of your questionnaire depending on the respondent's profile and responses to the questions. For example, you can redirect to a referral page or to an invitation to share an offer on Facebook if the person is satisfied, or send a reassuring message if the person is dissatisfied.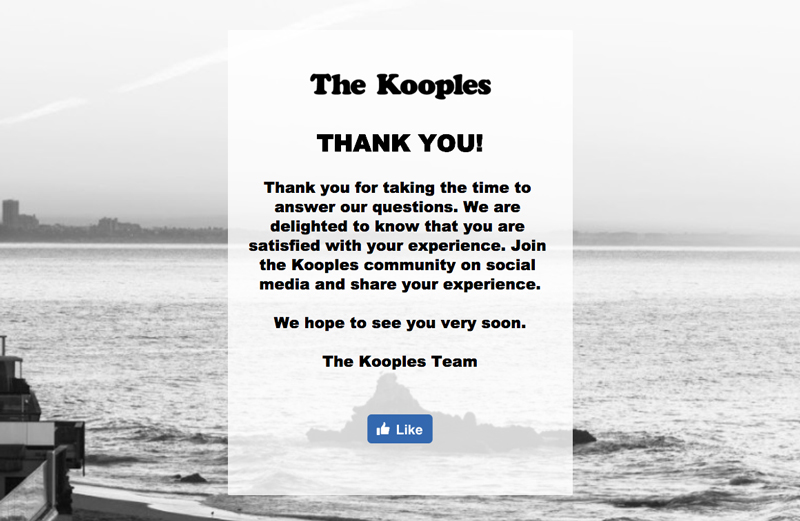 Real time alerts
You can configure email alerts by defining your rules (type of alert, frequency, recipient) to notify you in real time. For example, you can be notified of a dissatisfied respondent. This way, you can provide the right information to the right person at the right time.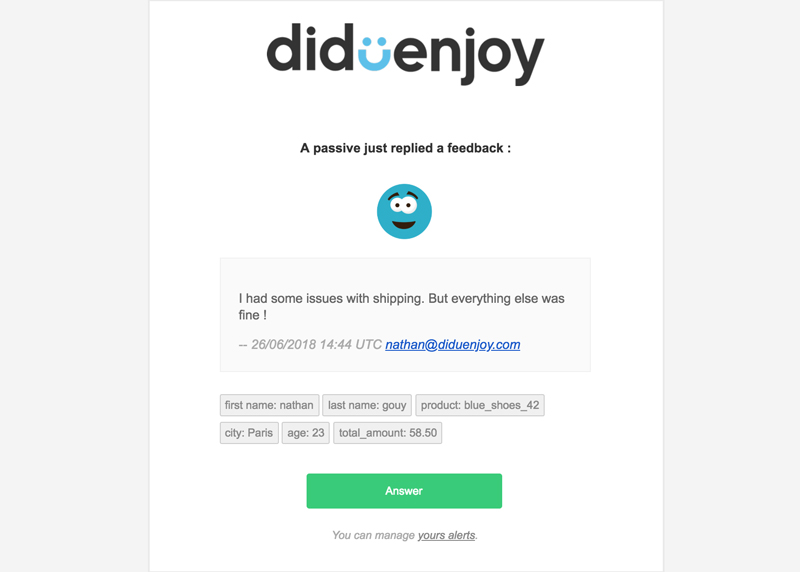 Messaging
Get in touch with each of your customers or employees with our simple and fun messaging system. Engage in conversation with all respondents. Talk to dissatisfied customers or employees to offer them a customized solution and talk to satisfied customers or employees to turn them into ambassadors for your company.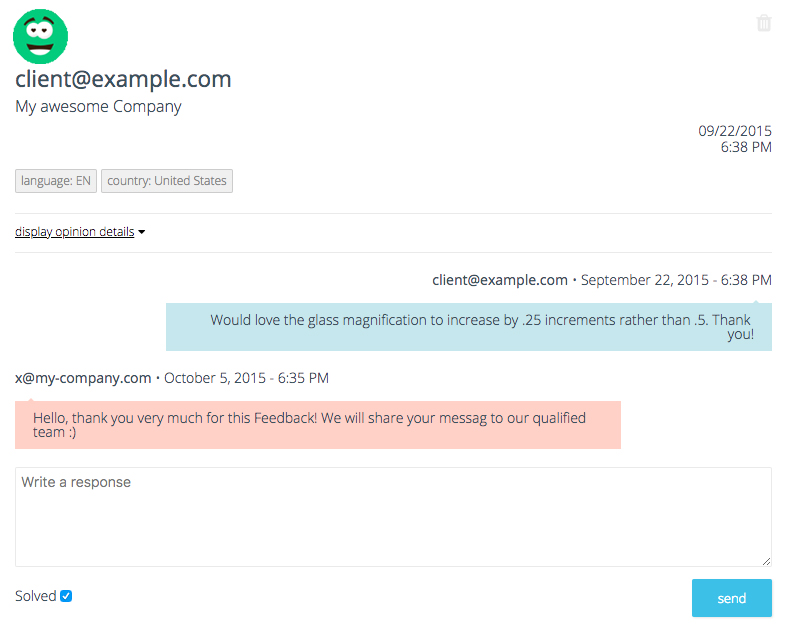 Automatic responses
If you have a large number of feedback messages to process, we have developed a robot that allows you to automatically send answers to your respondents. For example, you can send a personalized apology message to all detractors who do not leave comments.